Endodontics, or also called root canal treatment is necessary when the tissue inside the tooth (pulp) is infected.
The patient feels pain in the tooth (especially during chewing), also becomes sensitive to hot and cold. In this state the X-ray changes are often visible in the bone around the apical roots.
Endodontic treatment involves careful removal of all infected pulp, cleaning the canal, getting it disinfected and sealed with suitable materials.
In the Unident dental center for this purpose we use the latest equipment and materials.
To develop the channel, we use the Micromotors endodontic with rotary instruments and ultrasonic instruments system.
Determining the length of the channel is necessary for its proper completion. Apex Locator is an electronic device used to accurately measure the length of the root canal. It allows us to develop and fill out exactly the end of the channel.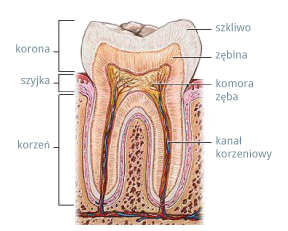 Another important tool is the digital radiovisiography that allows you a radiology control for course of treatment with minimal doses of radiation.
BIOLOGICAL TREATMENT OF PULP
Biological treatment is to preserve the vital pulp (tissue filling the teeth). It is used in cases where the initial appearance of a pulpitis (inflammation are reversible). The effect of biological treatment is to save the natural tooth from necrosis. Treatment focuses on removing the cause of the disease (usually decay), filling the defect and protecting the tooth with special protective preparations. For this method to produce the desired effects, it is necessary to diagnose the infection as soon as possible and start treatment.
TREATMENT OF IRREVERSIBLE INFLAMMATION OF THE PULP
For more advanced, irreversible inflammation, root canal treatment is applied. The treatment consists of cleaning the chamber and root canal of the diseased pulp. The next step is to broaden the channels, decontamination, and fill them with special material. To improve the comfort of the treatment we use a method called enucleation under anesthesia, which allows for painless cleansing of the content of the pulp cavity. The rest of the treatment proceeds normally.
TREATMENT OF NECROSIS AND GANGRENE OF THE PULP
Treatment of similar to a surgery performed in cases of irreversible inflammation of the pulp, but requires a larger extension of the root canal. There are also stronger disinfectants used in this procedure. This is necessary because the accumulated bacteria can cause serious complications.
TREATMENT OF PERIAPICAL INFLAMMATION
Periapical tissue is a tissue that surrounds the tooth root. These infections can cause a big problem for the patient, and are the cause of pain, in more advanced cases, a fever, and weakness of the body may also appear. The treatment is similar to the treatment of pulp necrosis and gangrene, but generally it is necessary to increase the number of visits and there is a significant stretch over time, eg every 3 months. The need for regular radiation monitoring is a must.